Paris Vegas
Ahhh winter in Vegas. It's just like springtime in Paris, minus all the trappings of culture.
This year Affiliate Summit West took over the PARIS hotel –which my taxi driver assured me was "beautiful!" He also told me that the cardboard box I was toting, stuffed with marketing materials, reminded him of something that would transport chickens.
But I have to ask, did Affiliate Summit generate too many complaints from Caesars Palace? Why did ASW get "un-subscribed" from the other-side of the strip?
Not that it really matters as most Vegas hotel convention areas look identical; high ceilings and vast expanses of carpeted walkways populated by lanyard wearing, networking zombies. It's what getting together with a group of your peers is all about.
Somehow we all look like we've got some where to go, other than the very place listed on our conference credentials. You just want to stop people and say, "C'mon now, Smile! You've made it. You're at Affiliate Summit baby. No need to look like you're searching for the winning lotto numbers just over there, off in the distance just past the Champagne Ballroom."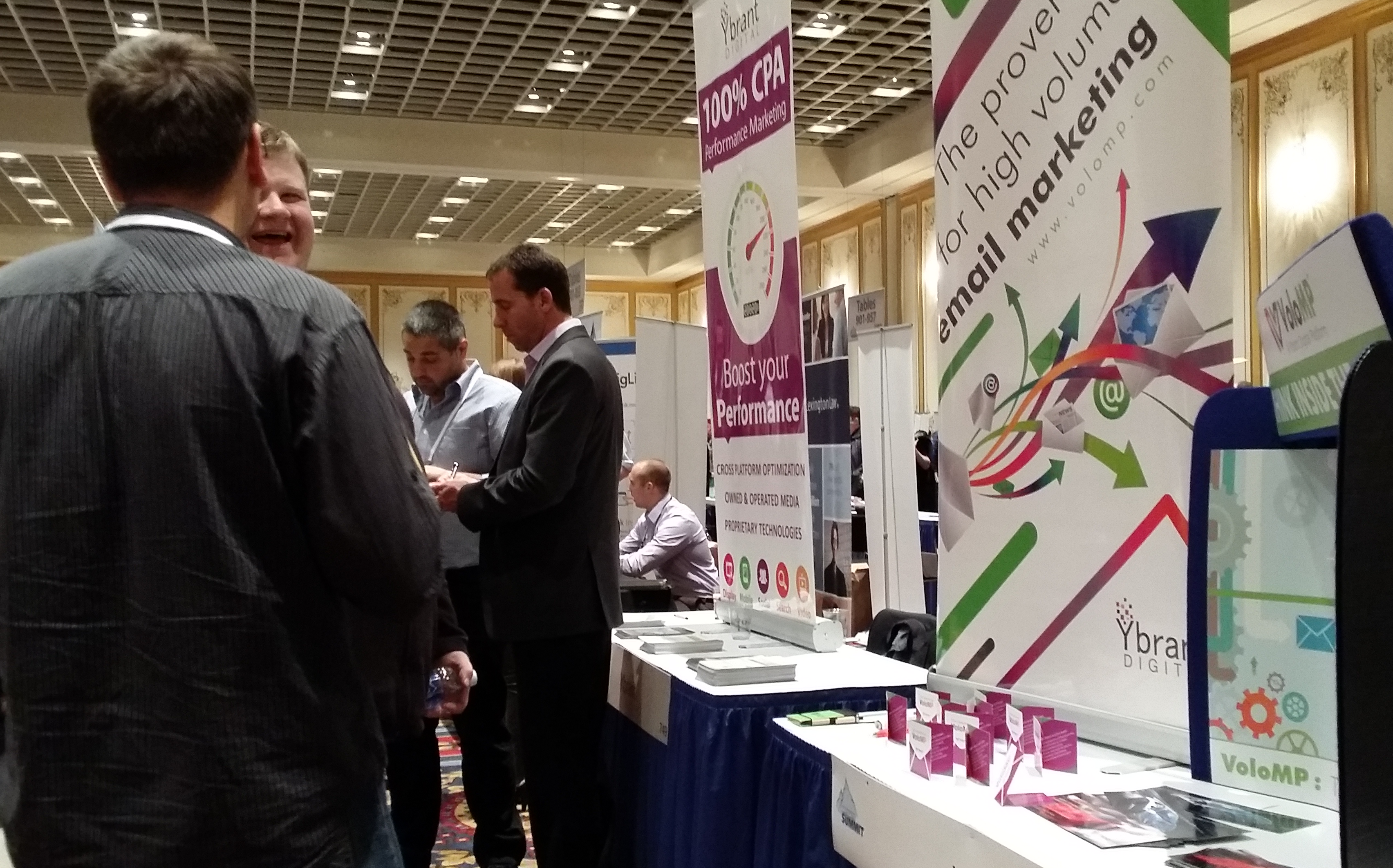 As for VoloMP, we came out to give hardy handshakes and meaningful eye contact. We represented (see how naturally I use that nineties gangsta talk? It's called foreshadowing, ehem) at the Meet Market table with a big crew: Chris Doyle, head of client relations, Ori Elraviv, managing director, Vladimir Zidar, head of technology, Joe Simovic, senior support specialist and me on the drums. Our main task was to not crowd the table and scare all the people away. As the hours passed, it felt like we should shout out our offerings like a Timex vendor at a swap-meet. "Email platform! Get your eeeeeeeeeeeeemail! Fresh and ready to roll, eeeeeeemail! Folks, taste the freedom of managing your own IP space!"
Luckily, the Meet Market was less of a steam box than last year. But strangely, just like in 2013, there was a power outage. For about 10 minutes we made small talk by the light of emergency exit signs and weak back-up lightening. But I guess the Paris Hotel was supposed to be romantic. So, magnifique!
Trade shows, once you've grown accustomed to slouching over your computer all day, can be a real shock to the system. There's just so many people and so much standing. I think it's safe to say that most of us (those without treadmill desks) during an average work day do lots of sitting –lots and lots of sitting and squinting in-front of monitors; we're busy responding to emails, checking stats and leaving incendiary reviews on New Egg. So it can be challenging to interact with other fellow humanoids, in real-time, face-to-face.

ASW Pros: Increased blood flow.
Cons: after hour three, eyes start glazing over.
Other thoughts: NOBODY, who you've emailed and chatted with over the years, looks like how you imagine them to.
Something that made standing for six hours, in one place, manageable was knowing we we're going racing the next day. The Volo crew and a few clients went to the Las Vegas Motor Speedway to for a quick adrenaline rush. Besides the thrill of seeing how fast you can grab the turns with a Ferrari or Lamborghini, it was fascinating to witness how hard they up-sell you at the track. After the safety instruction, I felt like giving a standing ovation to the driving course presenter.  Vista Print ain't got nothin' over him.
So we all got our drive on. Most of us picked the Ferrari 458 Italia and second popular was the Lamborghini Aventador. We were good, respectable super car drivers. Only one of us slid off the track in a cloud of dust and infamy, which made for a little drama and great story-telling. More photos by Tamara Zidar.
Our ride to and from the race track was a black limo. It felt like we were going to the prom. Nothing promotes bonding like sliding down the long bench seat of a Super Stretch Escalade complete with over head sparkley lights and plenty of securely fastened champagne flutes for all. In fact it was on the ride back to the Paris, that our Support Specialist, Joe from Serbia, revealed his love of Merle Haggard. Merle. Freaking. Haggard! The Okie From Muskogee. It's amazing what happens when you sit in such tight proximity to one other with a glass of Andre in your hand (Yes! ANDRE).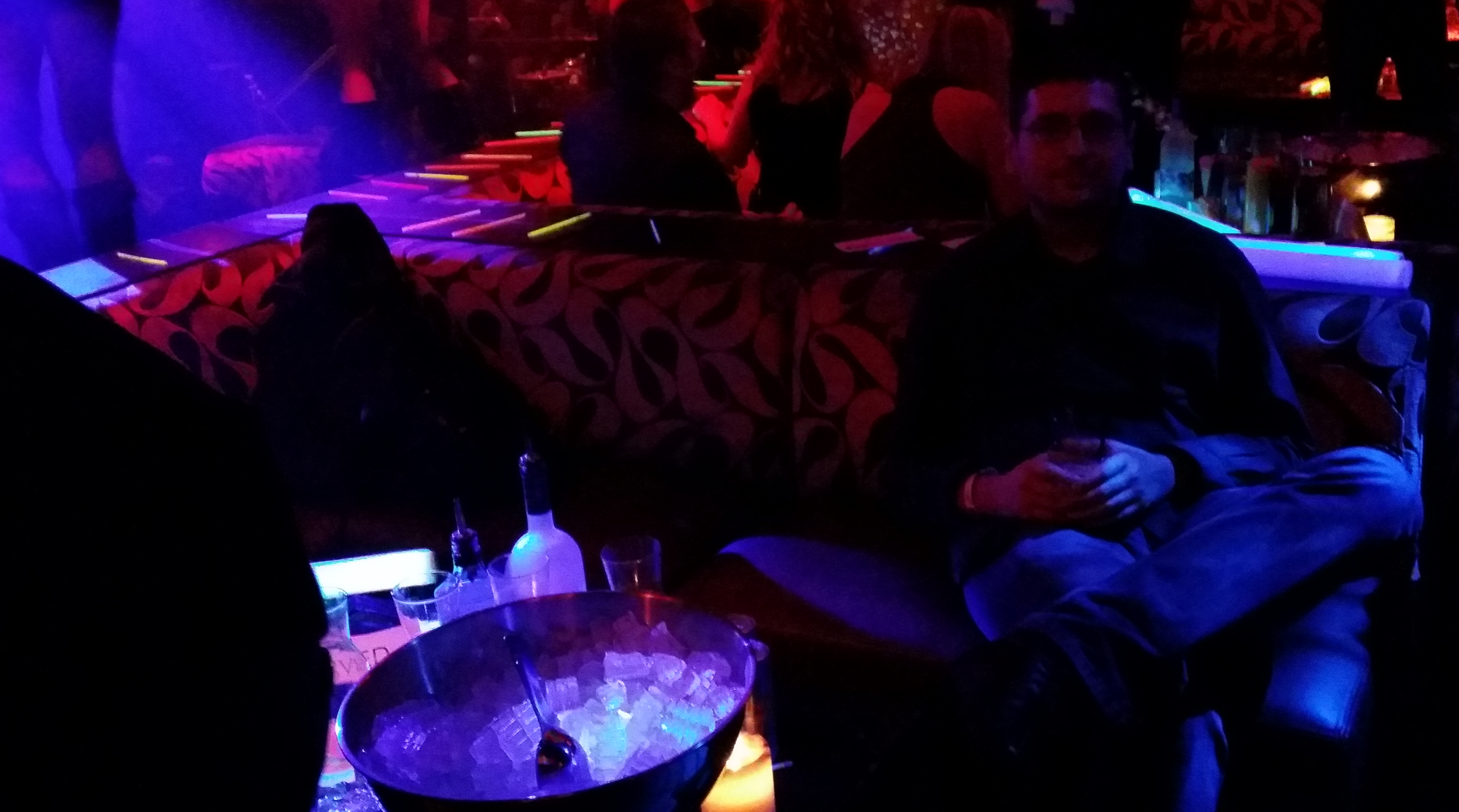 Then cut to the VIP section at the Tao party with the 90's Hip-hop thumping. Joe looked like he would have preferred to be listening to the twang of Merle's Fender Telecaster in some Outlaw Country tune -not Bust A Move. Or maybe it was just the jet-lag. A few days later, after some Googling, Joe conceded how fortunate he was to have shared an evening with Young MC.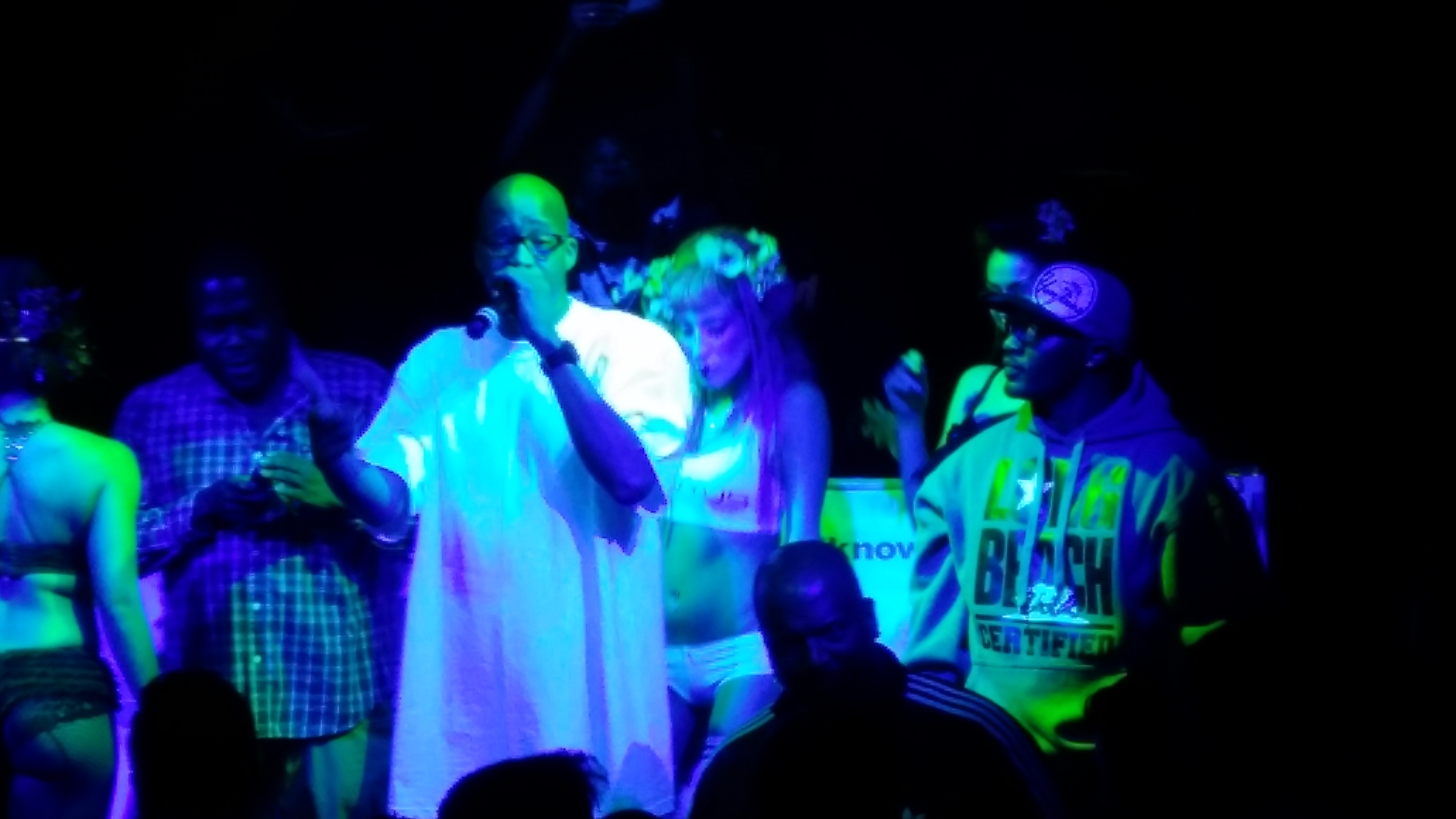 For many, the night was about staying up long enough to see Warren Griffin III (OK, and the open bar). Of all the throw-back, artists to play at an affiliate marketing industry party, Warren G, pound for pound, brought it to a whole new level.
We may have accidentally enjoyed ourselves. Because Tuesday morning arrived much too soon. The bottle didn't let us down this time Merle.