ASW 14
Attending ASW14? Think email is cool or just love fast cars? Come talk to us!
Stop by the VoloMP Meet Market Table (#751) on Sunday, January 12th between Noon and 6PM to meet with the VoloMP team and add your name to our racing giveaway.
If you win, (you'll know by 6:05 PM on Sunday) you'll join us for a Monday afternoon trip to race the performance car of *your choice. You will then need to clear your Monday afternoon schedule, so you can enjoy an adrenal fueled, thrill ride of your own design.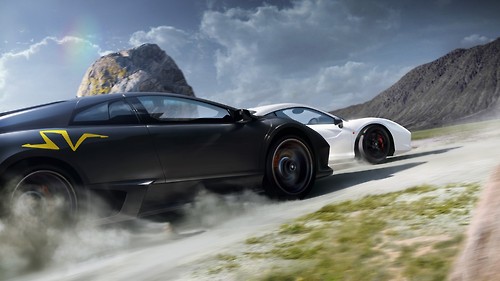 VoloMP will sponsor your drive through the course as well as provide transporation to and from the Las Vegas Motor Speedway. You'll join the VoloMP crew as we blow that Popsicle stand called the Paris Hotel at 1 PM on Monday and arrive back by 6PM with permagrin.
By the way, when you come by our table, some pleasant conversation would be nice too. Acceptable topics include; the weather, sports or pop culture trivia as well as charming chit-chat about email marketing. Ask embarassingly newbie questions or geek-out about IP throttling protocols. It's all good. we're here for YOU.
This is your chance to clear-up any lingering questions you have about VoloMP being the right mailing solution for you. Just TRY to stump the three amigos of mailing with your most complicated, convoluted and complex sending questions.
Not only will Volo's Head of Client Relations and all around swell guy, Chris Doyle be there, but so will our travel hound, Head of Technology, Vladimir Zidar and movie buff, Senior Support Specialist, Joe Simovic. Zidar and Simovic are making a rare public appearance; they are ready for their close-up.
If you want to be sure and catch Chris, Vladimir or Joe during ASW email ellie@volomp.com to schedule a time.
See you soon –next to the Champagne Ballroom!
Best,
VoloMP
*options include latest models from Ferrari, Lamborghini, Aston Martin, Audi, Nissan, Porsche, Mercedes and Corvette
IMPORTANT NOTE about the winner:
-You MUST be stone-cold SOBER (sorry)
-You MUST bring a valid driver's license (international is fine)
-You MUST wear closed-toe shoes (no flip-flops or peek-a-boo heels –sorry again)
Assuming you've jumped through all three hoops listed above, you're in for some heart pounding action, behind the wheel of one of the world's fastest and most exhilarating supercars on the Las Vegas Motor Speedway, 1.2-mile, 7 turn road course track. Real-time coaching from professional racing instructors will have you pushing the limits of performance lap after lap. A good time shall be had by all.